O'Connell & O'Connell was founded at the end of the nineteenth century, and members of the family have maintained the active practice representing both domestic and overseas clients ever since that time.


---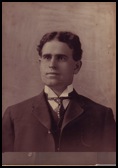 Joseph F. O'Connell, Sr.
began his practice of law upon graduation from Harvard Law School in 1897. Local Boston politics during the early twentieth century were dominated by such notables as John F. "Honey Fitz" Fitzgerald, the grandfather of President John Fitzgerald Kennedy, and James Michael Curley.

Active in politics during the same era,
Joseph, Sr.'s
career led him to serve two terms as a Member of Congress in the US House of Representatives a century ago.

Following his defeat by Curley in 1910, he returned to the practice of law in Boston with his new bride, the daughter of a fellow Congressman from Pennsylvania. The two raised a large family of eleven, three of whom were in time to follow their father into the practice of law. He continued the practice of law until his death in 1942.
---

His brother,
Daniel T. O'Connell
, also practiced with Joe Sr. until Daniel was appointed to the bench of the
Massachusetts Superior Court in 1928. Uncle Don, as he was known, also sat as a judge during the war crimes trials in Nuremberg, Germany, following World War II. Click for more on the
RuSHA trial
.
---
Another brother,
James E. O'Connell
, was also a member of the firm during these years.
---
As mentioned, three siblings in the second generation followed their father and uncles into the practice of law.

Joseph F. O'Connell, Jr.
served as a Judge Advocate in World War II in the South Pacific (pictured here in New Zealand in March 1945) and Southwest Pacific theaters. He left active duty later that year and returned to Boston.

Once he had returned home, he continued as a reserve JAG officer rising to the rank of Colonel, and rejoined the firm where he practiced law until his untimely death in 1966. He had two children, both of whom would follow their father into the practice of law.
---

Lenahan O'Connell, who is still actively involved in the practice, was admitted to the Massachusetts Bar in 1938. Following his service as a Judge Advocate officer in the Southwest Pacific during World War II, he too rejoined the firm after serving as an Assistant Attorney General in Massachusetts. He has been in practice now for more than sixty years.

---

Frederick P. O'Connell
, the third son in the large family, served as a Lieutenant in the US Navy during World War II. He returned to Boston after military service to practice with the firm for a time before moving to Kennebunk, Maine where he was subsequently admitted to practice as well. After being appointed as Maine's Commissioner for Veterans' Affairs, he relocated his practice to Augusta, and remained there for the remainder of his career. He served for a time as an Assistant Attorney General and later as a permanent Commissioner on Uniform State Laws. He was active in community affairs as well, serving as an active Rotarian, and as Chairman of the Augusta School Committee. He was to continue his general practice of law until his death in 1990.
---
During their absences to serve in World War II, the practice was maintained by their aunt, attorney
Margaret F. Lenahan
, a graduate of Trinity College and the University of Pennsylvania Law School.
---
Joseph F. O'Connell III
, the grandson of the firm's founder, was admitted to practice in 1975 in Texas and Massachusetts, and in 1978 in the District of Columbia. After some years working with Fortune 500 corporate clients in the insurance and reinsurance industry, he joined O'Connell & O'Connell in 1997.
Recently retired as a Colonel after almost thirty years of service in the US Army, he was recalled to active service twice during his reserve career, serving as a Judge Advocate General officer specializing in international law in Saudi Arabia in 1990/1 during Operations DESERT SHIELD / DESERT STORM, and then again in 1996 as a Staff Judge Advocate in Germany as part of the implementation of the Dayton Peace Accords that ended fighting in Bosnia-Herzegovina. He continued to serve for a time after retirement as an adjunct lecturer at the Defense Institute of International Legal Studies, where his travels included seminars in West Africa, Central Asia and the Caucasus.
In addition to his law degree, he has also earned post-graduate masters degrees in business administration and strategic studies.
---