---
Joseph F. O'Connell III
was admitted to practice in 1975 in Texas and Massachusetts, and in 1978, the District of Columbia. After some years working with Fortune 500 corporate clients in the insurance and reinsurance industry where he had extensive experience with Lloyds and other London-market underwriters, he joined O'Connell & O'Connell in 1997 where he carries on the firm's traditional practice.
With an advanced degree in business administration in addition to his law degree, he has expanded the firm's practice to include legal advice to growing domestic businesses, as well as to foreign investors, their bankers and solicitors, typically from Western Europe and China, and their attorneys, as they establish new ventures to expand their businesses into US markets. Email: joseph.oconnell@counselor.com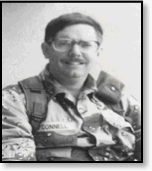 A reserve officer in the US Army for thirty years, he was recalled to active service twice, serving as a Judge Advocate officer specializing in international law in Riyadh, Saudi Arabia in 1990/1, and then again as a Staff Judge Advocate in Heidelberg, Germany in 1996 in connection with the cessation of fighting in Bosnia-Herzegovina. Now retired from the military, he subsequently served for a time as an adjunct faculty member of the Defense Institute of International Legal Studies, Newport, Rhode Island. His travels for DIILS included seminars on various aspects of the Rule of Law in West Africa, Central Asia and the Caucasus.
Based on the input gathered from peers in the Massachusetts legal community, the legal directory publisher Martindale-Hubbell, today a subsidiary of LexisNexis, has awarded him its highest AV® rating, signifying his 'Very High to Preeminent' status in the local legal community and his 'Very High' ethical standards. For Martindale Hubbell's own explanation of its ratings, please click here.
---
---